Beams, oh my! Why we had to remove our client's staircase.
"We have to remove it", I said to myself. I just didn't see another way to be able to add a dry bar and mudroom when there was a staircase right smack in the middle of the family room leading to the kitchen. The worst part was that it wasn't needed! The main staircase for the home was in the foyer, only a few feet away that also took you to the same second floor landing. I remember writing "remove staircase!!!" with three exclamation points at the consultation in West Harrison, NY while we asked our client to tell us her design needs.
Our Client's Design Challenge
Our client's journey began like many others, with a desire to breathe new life into her home. Having explored various GCs, she found herself facing a common challenge – a lack of definitive project specifications and quotes. The bids provided were vague and subject to change based on future selections, leaving her feeling uncertain and frustrated. Furthermore, the absence of an interior design vision from the GCs hindered them from truly addressing her needs and solving her unique problems. One GC had suggested to her adding a second island just floating between the breakfast nook and kitchen. This is why you should be hiring an interior designer first because they will build the team like helping the client hire a GC, architect and other trades needed for the scope of work with all selections sourced so when a GC is quoting a project, that bid is accurate.
Schematic Floorplan
For this kitchen renovation, we sat down with the client and went over her needs such as a larger island, pantry and designated mudroom. On a visual standpoint, being able to do something with the columns was a plus but the client was concerned about how to make it structurally sound. Turns out these columns were supporting the second floor so we designed a layout solution that allowed us to open up the ceiling and provide additional support while hiding a support beam in the new walls being built for the mudroom.
One of the benefits of working with SMI: We are consulting and collaborating with a team of contractors, architects and structural engineers to ensure the design we are presenting is achievable, of course for a cost. As I like to say, anything can be done, it just costs time and money.
Concept Board Design
After we aligned on the schematic of our client's kitchen, we then dived into the concept and selections for the space. A classic bright and airy kitchen with white shaker style cabinets, quartz countertops and Benjamin Moore Hale Navy pop in the island with herringbone pattern.
Custom Elevation Drawings
Our client also wanted a mudroom that she could store shoes, jackets as well as bulk items from Costco tucked away. We designed a custom mudroom tree with a wood bench to sit down and take off your shoes and then store them away.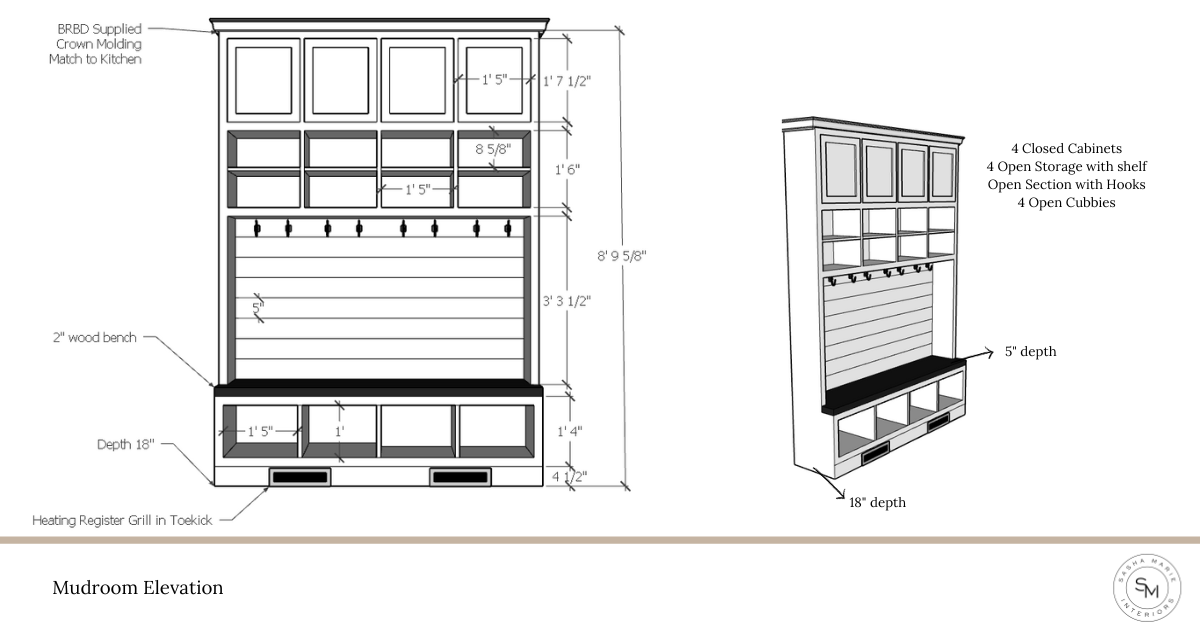 When designing the mudroom, it was important to our client that they had both open and closed storage with multiple hooks with cubbies for shoes.
Challenges and Solutions
Our client's problems were a small kitchen, with a tight island with no good seating. There was also the issue that the pantry was in the hallway and the mudroom was off to the side through a small hallway. Let's not forget the terrible columns right smack in the middle of her family room that brought you to the same second floor landing, rendering it redundant. By removing it, we were able to open up the space, removing intrusive columns along the way. Removing a staircase isn't a decision to be taken lightly. To ensure the integrity of the structure, our team collaborated closely with architects and contractors. We strategically designed to build out the mudroom into the vacated space, concealing a supporting beam within the drywall. Additional structural supports were introduced in the breakfast nook area, guaranteeing a safe transformation that met all building codes.
Half way through the construction of our client's kitchen, she entrusted us with modernizing her master bathroom, and guest bathroom. Our clients had moved out of their home for the duration of renovation making this project a big transformation and an ideal time to get everything out the way.
Before
After
Before
After
Photography – Lisa Russman
Construction – Benjamin Rose Builds
Design and 3D Rendering – Sasha Marie Interiors
You can find additional photos on this project at the link below.
Fall in love with your home
It's our goal to create the home of your dreams, without the headache. Our proven process creates a simple, straightforward experience for both parties. We'll take on the challenge of design choices and deadlines, so you can spend your time on what matters most.
If you are looking for your own transformation, be sure to contact us below.